the most advanced digital technology for the
dental occlusion analysis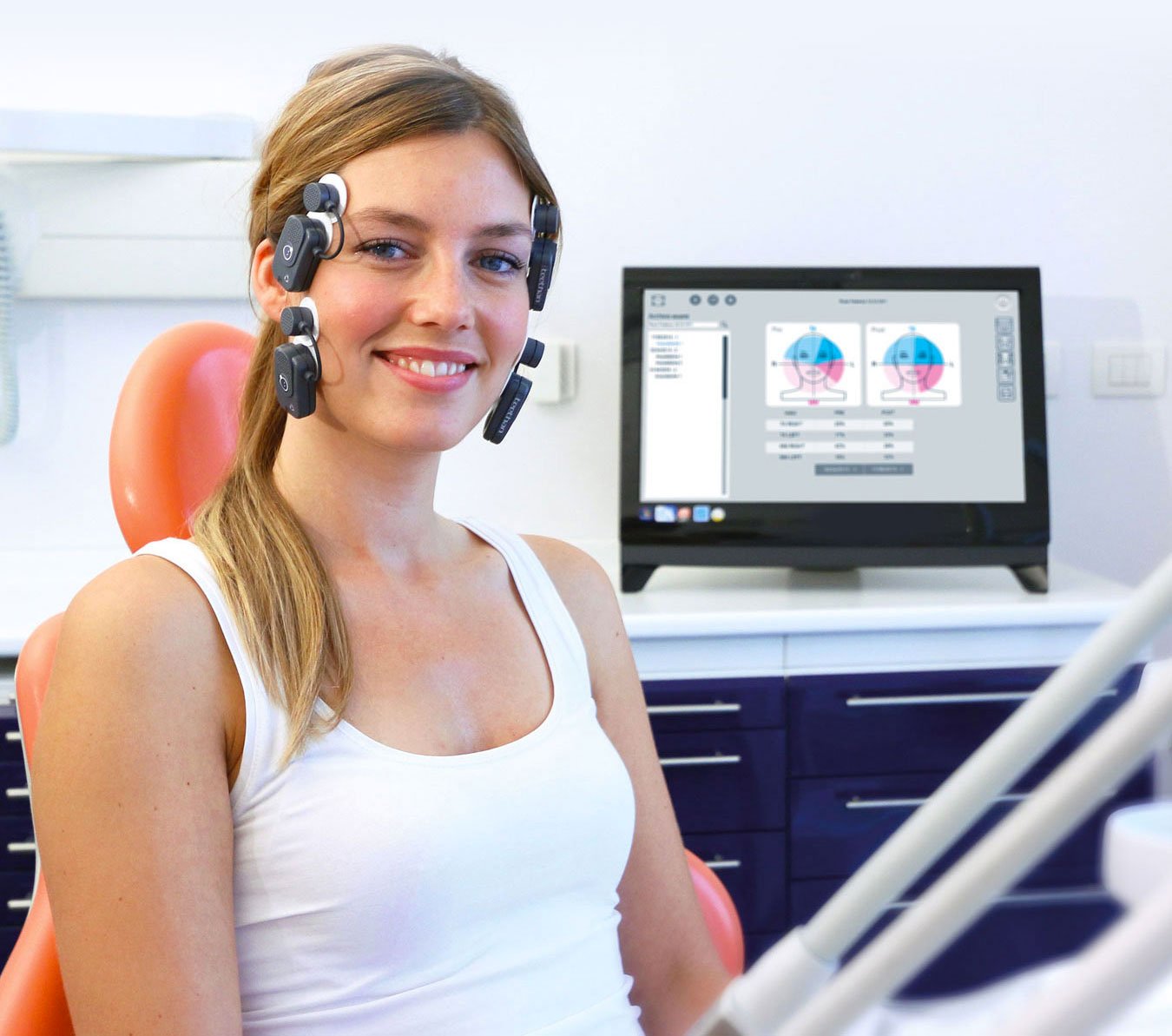 The Teethan exam consists of two measurements of muscle activity in maximum intercuspation:
the first one, carried out by placing two cotton rolls between the upper and lower teeth, is for calibration
the second one, carried out in natural intercuspation, allows you to detect the occlusal parameters
Each test lasts 5 seconds and at the end Teethan generates the values of the recorded muscle activity.
Quick
The time of the dentist has a value: that's why the exam with Teethan lasts only 3 minutes.
Easy
Teethan is very simple to use and requires no changes to the study and the way of operating.
Accurate
20 years of scientific research have demonstrated the repeatability and reliability of the evaluation protocol.
Turnover increase
47% of dentists who use this technology do at least 10 exams per month and bill the exam for more than 75€, which means an increment of the turnover.
Time is precious
The exam with Teethan lasts only 3 minutes. It therefore does not alter the daily work flow and does not require you to spend more time on each individual patient.
Easy to sanitize
Teethan probes never come into contact with the patient's face as they are applied through disposable pre-gels
Better communication
The graphic synthesis of the collected data allows the patient to understand his occlusal condition and the necessary interventions to improve it in a visual way.
Legal protection
The examination carried out with Teethan allows you to document over time, with objectivable information, the patient's starting conditions and the results obtained.
Easy reading report
The report generated by Teethan is extremely clear and can be rapidly interpreted, thus improving the understanding of the problem.
Teethan in
daily

clinic practice
First visit
Teethan allows a more precise diagnosis, standing out of competitors thanks to advanced technology.
Splints and occlusion
Teethan allows an immediate test and bites functionalization, checking VDO rise or any occlusion changes.
Gnathology
Teethan analyzes the muscular components in dysfunctional patients and allows you to verify if the patient supports the treatment.
Prosthetic rehabilitation
Teethan is a guide to restore the patient's functionality. It helps in detecting several problematic factors.
Orthodontics
Teethan allows a verification of the achievement of a balanced occlusion avoiding relapses.
"A compass in the prosthetic rehabilitation. It helps me to understand the patient's muscular work and to identify the latero-deviations. It's helpful throughout differential diagnosis and in all treatment phases."
"Teethan helps me to answer many questions: did I correctly balance this occlusion? Could an occlusal overload damage my work or the patient's teeth?"
"Teethan helps me fine-tuning each first dental visit. The device supports my experience in the diagnostic framing of the patient. It is indispensable for the elaboration of a correct treatment plan."
"By allowing me to monitor the finalization of the structures of the stomatognathic system, Teethan helps me to obtain a stable and balanced occlusion over time."
Copyright © 2020 Teethan.com.
All rights reserved. Do not duplicate or redistribute in any form.
VAT N° 08966960968